The next couple of months are going to hopefully be filled with me on the roads running up a lot of miles and hopefully getting a few medals. As I am doing quite a few races over the next 8 weeks I thought I would share with you some of them and if you know of more, throw a suggestion my way. Sadly all of these are in Northern Ireland and County Antrim, as I won't be travelling too far out! Enjoy!
EAMS 30 MILER – 19th August
Might as well start with the daftest one eh? As I have mentioned in numerous running related posts. The East Antrim Marathon series crew are my go to races. So I stupidly selected the 3 x 10-mile loop for a giggle. I have run that course before and the long version actually holds a PB for my marathon distance. I was excited about this race… Then I actually read the race info and found that the race was going in the opposite direction. This race goes up to Knockagh monument… Which is quite high and it is a difficult run. I have never gone up the other way. So guess what I will be doing on Sunday! I am excited to get back into racing and specifically long distances and I always say to myself that I go head first into things, so this is obviously no exception to that rule! Start with a bang!
CONNSWATER 5K – 20th August
You would think this is a step down from such a long race, but this is probably the race I am looking forward to the most as it is the race that I will be the coach and my trainee will be running for a decent time in her first non-stop 5k race attempt. I am also twice as nervous about it as I want it to go well for Victoria and that includes weather, the experience, the medal. Everything, I want her to enjoy it and I believe in her that she will set a time that will surprise her. She has a lot of potential to run quick… I will get her to a marathon distance one day! This race is the day after the 30 miler, so hopefully, I don't pick up an injury to slow her down.
STORMING THE CASTLE 10K – 27th August
I know this route with EAMS and 10k's are my usual distance runs. I will be building up to try and break under 50 minutes again, I am not sure this will be the race to do that in as I am still a long way off due to my in off break with running. I will push hard though as it is nice and flat. Plus this will be a week removed from the big weekend of running, so the legs should be a little fresher and I, a good bit fitter.

LAGANSIDE 10K – 3rd September
Another very flat race, I have never ran this one before, but it is always well supported and ran so there is a hope for a good time. No matter what I will be using my Storming the castle time as a marker to beat. I believe I should be able to push past that, as when I get back on track with my running I tend to improve quickly. Hopefully this time it will be the same around!
EAMS 50 MILE RACE – 9th September
Back to silly times! This is a 4-mile flat loop and if there is a chance I might fail during a race, this is the one. I won't be ashamed if I fail. This is a big old race and DNF's are something that happen. I know the distance. I have completed this distance in less than 12 hours. So I will simply pace myself accordingly, take a lot of walking breaks and enjoy it. Hopefully, the weather is kind. But this is Northern Ireland so who knows what to expect! I will chat more about this race and ultra marathons another time as they are something that are interesting on the mental and physical side.
BELFAST HALF MARATHON – 17th September
A hard race due to the course, but that is the way with this half marathon, I don't think they have ever got it right though last years was an improvement route wise. My first half marathon in quite a while, but seeing as it is following the 50 miler it is small change. But with all races, and distances, they bring their own challenges and that is what is great about running isn't it? I mucked up my pace last year and I will make sure that I don't do the same again. I ran out of gas/energy around 11 miles in and my pace plummetted until the last half a mile. I was actively embarrassed about that performance. Not again.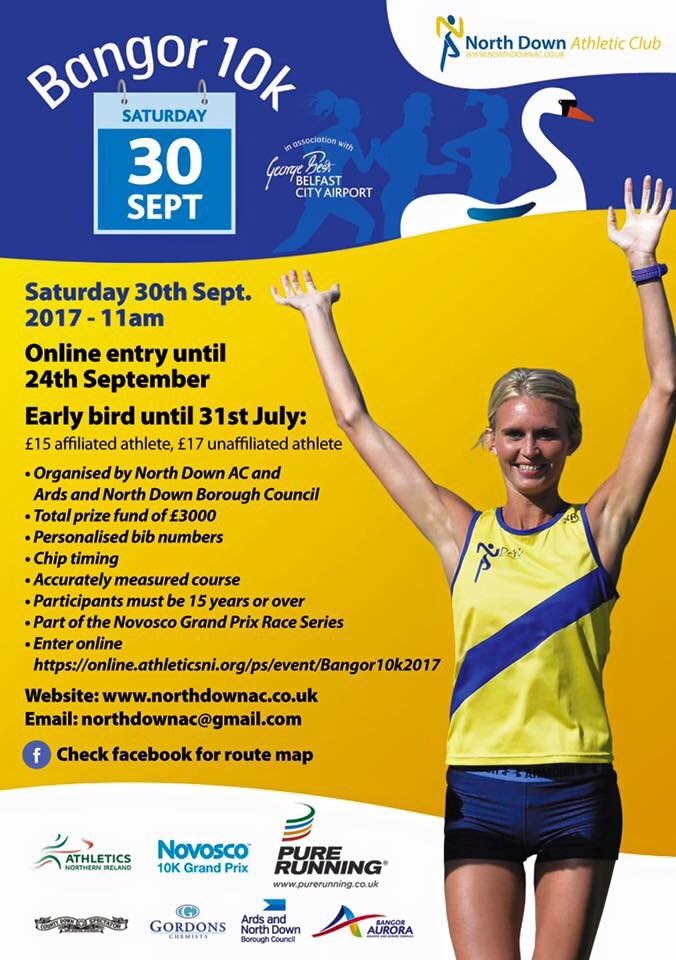 BANGOR 10K – 30th September
If you know Northern Ireland you will know this isn't in Antrim, you got me! But it is a short train journey away, so why not right? End strong with a nice 10k. I have never run this one before, so I have no idea about the route, but it will be my best 10k run this year or severe disappointment will come from me!
Well, that's it! Know of any races nearby that I should signup for and try around these parts, Got any advice for long races? Almost all of these races are still available to sign up for, so go ahead and have fun! P.S. I will be trying to see if I can get Victoria to join me on a race not listed, but I will wait to see how her confidence is post 5k race! Wish me luck!
If you want to chat more about any of my posts, please follow me on twitter, Instagram and also to receive updates, Until next time, thanks for reading and I hope to see you again soon!